by Kshiti S.V.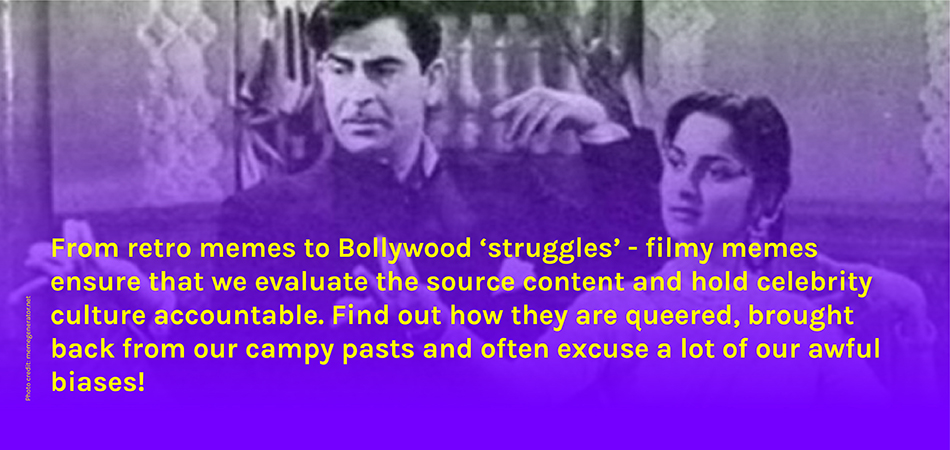 Bollywood is quite a pervasive entertainment source which has come to play an influential role within the culture of meme-making. We've all come across several memes that make references to scenes, actors, songs and stills from Bollywood films to better convey an idea.
Bollywood memes follow a timeline which can be traced right from older film stills to recent ones, acting as meme templates. We want to deep dive into all aspects of Bollywood memes and we'll start by looking at what could be called camp and retro memes. It's interesting to look at these templates that have only been used as measures of expressing a sentiment through the meme. We have retro memes that suggest not very contrasting ideas but definitely a different nuance to the humour contained in them. It is interesting how eventually humour and exaggeration from Bollywood, come to be accepted into memetic culture and are widely transmitted as well.
This still from the extremely popular film Deewar, is yet another template that can be used for meme-making! Another instance of a retro meme that went viral in 2017 is quite interesting to look at the ways in which memes are becoming a pervasive influence in the culture we take part in. Here's an example:
Quite a pressing question, right? Quick to follow were the many memes depicting women taking ownership of their stories, from old Bollywood film templates.
Like this one, challenging the long accepted stereotype of girl jealousies. One more favourite of ours is the string of aunty meme templates that followed, our best pick being this one from Pretentious Movie Reviews followed by this classic Kirron Kher meme:
We may have come across memes that stereotype against people from South India making us believe how they are necessarily darker skinned, speak in heavily accented Hindi and necessarily have oily hair. Such ethnicity-specific stereotypes exist for almost any given ethnicity in India. A lot of memes that make fun of the roles and identities of people of colour are highly prevalent everywhere and are often passed as "dark" jokes; except they are often taken at face value and may perpetuate harmful stereotypes.
This scene and several others from Bollywood films adapted from Chetan Baghat books, make for good meme 'material' owing to their adherence with ideas of popular imagination. But they also highlight issues of colourism (as seen above) along with provincialism and can may well be slurs. One example that we thought of is this meme, which went viral soon after the trailer of Half Girlfriend (2017) was released.
Poor English speaking skills are loosely equated with inability and low comprehension, which furthers the idea of the core and periphery of a given region and how that plays into our self-presentation. This is made into something that people can get ridiculed for, like in the following meme. An alternate perspective, as proposed by Ulka Anjaria, is that Bhagat uses a language that is economized and indigenized for everybody to understand. It is provincial, it reserves your faith in your land and doesn't push you to depart unlike other Indian English authors who have been writing about the other end of the spectrum (read Lahiri, Rushdie). Anjaria argues for Bhagat's literature as something that standardizes and instills a new degree of faith in the local. In that sense, the virality of this meme template as well as the reception Bhagat's literature gets, is explanatory.
Another problem that a lot of Bollywood memes need questioning for, is the disproportionate representation of various communities. As if this isn't enough of a problem, a lot of these representations are often inaccurate and terribly incomplete. To address this, we can look at how a lot of the series of popularly acclaimed films are mostly depictions of the upper class, upper caste populations. These lines between classes and their representation is so flawed and inappropriate calling for problematization of the narratives they seek to further. In a country where the majority struggles to eat one square meal, it is problematic to perpetuate the image of a utopian world and furthers a sense of incompleteness. Memes, as usual, are used as tools that inevitably further this feeling. Such practices perpetuate and make the lines blurry between different classes and their differently enabled social structures.
Struggles sure are based in people's subjective realities, however the popular ideas of classes are heavily influenced by Bollywood portrayals as well as the film industry, further altering our opinions and understanding of it. This also shows itself in the many Taimur Ali Khan memes based on the inordinate amount of media attention he gets, in terms of the privilege 'star' kids have, and how memes often make fun of it. A few examples as below are not even appalling anymore.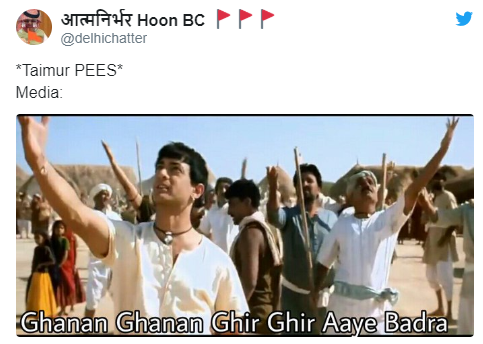 While we're at it, it would be interesting to look at how several Indian TV stills are used as meme templates. The 'Pooja what is this behaviour' template became viral in no time, and is one of the very few reality TV stills to escape it's confined boundaries and become a meme. A similar example is that of the 'how can she slap' template that is being used widely.
It is vital to look into how women's anger on such reality TV shows is perceived to be something ridiculous, and worth applying in multiple contexts. Humour is a fundamental device that memes carry, and it is interesting to read into why women getting angry and snappy becomes material for memes. While there is no condoning violence, it is telling to analyse what is seen as funny versus something seen as threatening – gendered ideas of 'hysteria' are often perpetuated through these artifacts. Recently, with Hotstar's re-telecast of the show Sarabhai v/s Sarabhai, the 'middle class Monisha' template has become a rage. It usually features Maya schooling us into challenging several seemingly inappropriate and inaccurate things by calling them middle-class. We appreciate the satire attached to the huge Indian middle class and the schooling that comes with it. At the end of the day, our good old Hansa (from the show Khichdi), and Sarabhai memes could save the day for Indian TV's presence and contribution to memetic culture. Here's an example of how these memes address several societal issues.
A few meme pages, however, are a welcome change that make use of Bollywood memes to initiate a movement that challenges stereotypes. It helps to stop their reinforcement in pop culture. These meme pages are using the medium to challenge and break stereotypes usually associated with a specific gender, sexuality, race, class or caste. Some handles like @rayonmag on Instagram take a direct dig into the privileges of Bollywood and make ironic, meme-y posts. This helps reading further into the apparently altruistic and giving nature of all things (and people) Bollywood.
This meme, makes a sly but important remark on every other person, especially celebrities who take a stand against police brutality in the West and almost always keeps mum on such similar inhuman issues back home. It is important to identify, critique and remember institutional violence and this post asks us to reflect on just that.
Another page that challenges several stereotypes that have been fostered by Bollywood (with its Kantabais et al) against the queer community is @desiqueermemes on Instagram. How do they do this? Using Bollywood memes and popular TV vamps like Komolika! Here are a few examples.
Some of these have queered even the typical 'aunty' memes, an interesting take towards a more inclusive space.
In another instance, a Facebook page formed by a few students, belonging to marginalized backgrounds- Just Savarna Things, calls out the denial of caste privileges in Bollywood through memes. It makes a call at the "casteless" yet extremely casteist nature of Bollywood. Here are a few examples.
This way of challenging stereotypes is essential in rethinking and eventually relearning. It also helps the particular group in question gain ownership over its own narrative and propagate it truest to their lived realities.
Meanwhile, as we discuss the various types of memes and their use to address issues in the cultural fabric of the country, several brands are capitalizing on memes. Yes, several Bollywood and Indian TV templates are being used to enhance brand value/increase awareness and reach a wider audience. We have a few examples, from a few Instagram handles we know.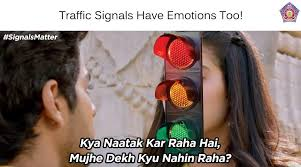 Here we find the Mumbai Police, asking people to respect traffic rules in a fun way with this meme.
Netflix India has quite effectively and openly owned their association with Radhika Apte and further capitalized off it, by making more memes as promotion. One such meme template that has not only caught our attention but that of several brands as well, the Maya template from Sarabhai v/s Sarabhai. This was just a sneak peek into how memes have also become a currency in contemporary times. This analysis was solely based on Bollywood and TV meme templates, however several brands use various other templates to enhance their brand value. Such is the potency of a viral, well-received and potent meme. https://www.instagram.com/becurefit/?utm_source=ig_embed
Memes that are made using Bollywood components, can ensure that it rightfully pushes us to question the content and depict its accuracy. Of course, humour is supposed to be received in a certain manner but respect can still be retained and is a good enough cause to advocate for. As proposed by Lab speaker Krishanu B. Neog, we'd like to focus on how memes act as crucial devices for communication. They have attained an important place in pop culture and have become a language in and of themselves. Such tools of communication further our cultural literacy by several notches by adding depth and nuance to it. In a country where the formal literacy industry has been battling the same issues in a viciously circular manner, it is important to pay attention to alternative sources such as cultural literacy. We can better examine the importance of cultural literacy, given the comfort and respite they provide to almost everybody for communication.
References:
The Dawn of the Indian Male Meme: https://www.vice.com/en_in/article/kz5z3z/the-dawn-of-the-indian-male-meme
18 Hilarious Memes that Perfectly Describe hoe Bollywood Logic works: https://www.dailymoss.com/hilarious-bollywood-logic-memes/
The Double Standards of Cultural Appropriation | The Bottom Line: https://thebottomline.as.ucsb.edu/2017/02/how-black-culture-is-exploited-in-memes-copy-headline-plz
Maymay wahi banaenge: Ambiguous Politics in Globalized and Localized Online memetic communities: http://www.fordigitaldignity.com/maymay-wahi-banaenge-i-ambiguous-politics-in-globalized-and-localized-online-memetic-cultures/
Chetan Bhagat and the New Provincialism: https://www.academia.edu/20190572/_Chetan_Bhagat_and_the_New_Provincialism_

@officalmarketingwarrior on Instagram: How brands reacted on Sarabhai's #MonishaBeta statement, with their own twist: https://www.instagram.com/p/B_XUAzcoDpx/?igshid=oyrgswvwabcc
Disclaimer: The memes linked, embedded or mentioned in this blog do not belong to The Meme Project and are not the views of the Meme Project Team. They have been used here to refer to their content or make a statement about their use.